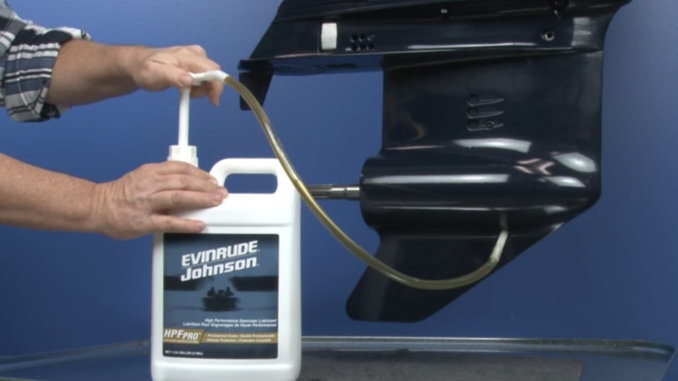 Filling
Change gearcase, or gear case, lubricant every 300 hours or every 3 years, whichever comes first.
1. Position gearcase our outboard vertically. Remove gearcase lubricant level plug first, then drain/fill plug.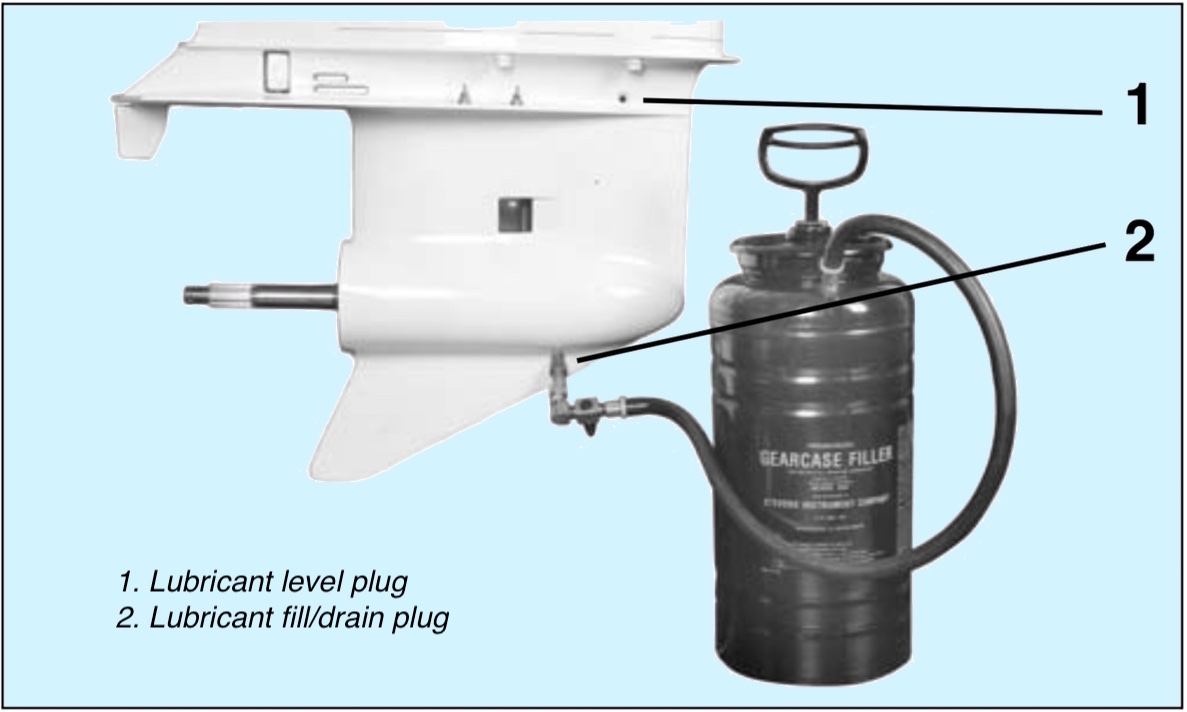 2. Use a heavy-duty professional gearcase filler, part number 501882, to slowly fill gearcase with Johnson/Evinrude/OMC HPF Pro Gearcase Lube Gear Oil through drain/fill hole. Stop filling when oil appears at the oil level hole. 
3. Fill gearcase lube slow. Adding gearcase oil too quickly may cause air pockets, and subsequently, prevent gearcase from filling completely.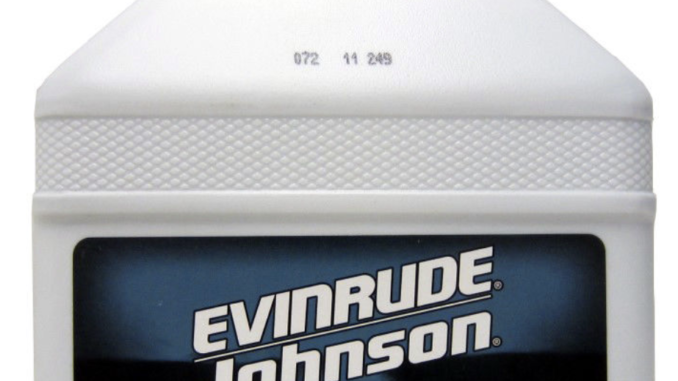 4. Clean excess lubricant or spill-over from plug seal area. Install gearcase lubricant level plug, be sure to use a new plug seal upon installation of the plug.
5. Install lubricant drial/fill plug. Change oil drain/fill plug seal with a new seal. Torque plugs to factory specifcations - 60 to 80 in. lbs. (7 to 9.5 N-m).
Never use automotive gear lubricant, motor oils or similar. Marine lubricants are specifically designed for marine applications.
Gearcase Lubricant Capacity
| | |
| --- | --- |
| "S" Type Gearcase 2007-2008 Models | 31.6 fl. oz. (935 ml) |
| V4 "M" Type Gearcase 2007-2008 Models | 43.0 fl. oz. (1270 ml) |
| V6 "M" Type Gearcase 2007-2008 Models | 44.0 fl. oz. (1300 ml) |
| "M" Type Gearcase - Counter Rotation 07-08 Models | 41 fl. oz. (1220 ml) |
| "O" Type Gearcase 2007-2008 Models | 33.1 fl. oz. (980 ml) |
| "L" Type Gearcase 2007-2008 Models | 33.1 fl. oz. (980 ml) |
| "S2" Type Gearcase 2009-2012 Models | 31.6 fl. oz. (935 ml) |
| V4 "O" Type Gearcase 2009-2012 Models | 32.8 fl. oz. (970 ml) |
| V6 "O" Type Gearcase 2009-2012 Models | 33.1 fl. oz. (980 ml) |
| "M2" Type Gearcase 2009-2012 Models | 38.9 fl. oz. (1150 ml) |
| "M2" Type Gearcase - Counter Rotation 09-12 Models | 35.8 fl. oz. (1060 ml) |
| "L2" Type Gearcase 2009-2012 Models | 32.5 fl. oz. (960 ml) |